I am the Owner-Broker of Mitchell Real Estate, an independent Real Estate Brokerage that specializes in residential sales, property management and foreclosure avoidance. Prior to working in sales I managed and developed my own residential and commercial properties in both San Luis Obispo and Santa Barbara Counties. My present office is located in the historic "Soda Water Works" building in downtown San Luis Obispo which I personally redeveloped in 2000.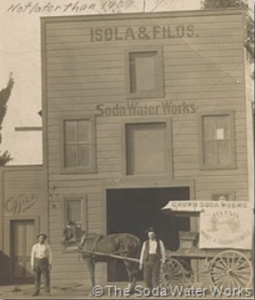 The professional affiliations which I hold membership are: California Association of Realtors, AIR Commercial Real Estate Association, California Apartment Association, San Luis Obispo Chamber of Commerce and the Business Improvement Association. I am active in the community having served on various boards namely; Boy Scouts of America, 4-H, FFA and Big Brothers Big Sisters.
I am a full time Real Estate Broker, I love what I do and I truly hope you will call upon me to help you find your own special place here in the "2nd happiest place in the world." *
* National Geographic book titled "Thrive" by Dan Buettner.
Soda Water Works
The Soda Water Works was originally built in 1900 and served as the towns "bottling works." Built in the image of the original building, this was the site of San Luis Obispo's own soda works. Lemon and strawberry were just a few of the flavored sodas produced here. In 2000 the historic property was redeveloped by Mary Mitchell into new Retail-Office Buildings. It is situated on the San Luis Creek in downtown San Luis Obispo,the Soda Water Works Complex is the ideal place for business.